Today was.. interesting.
September 18th
I got a 70 on my graph for Earth Science! Fail. I forgot to answer two of the questions, which was -10, and then I misunderstood the directions for two more questions, another -10, and then she took off 5 points because I used a break in my graph (which I didn't know I wasn't supposed to do *scowls*), and then she said I had "uneven intervals" so she took off another 5 for that. 100 - 10 - 10 - 5 - 5 = 70.

That made Earth Science suck for the rest of the period. Not that E.S. doesn't suck anyway, because it totally does. It's sooo boring! And Mrs.Capone is so mean.
Anyway.
So Ms.Reynolds (English teacher) thought my Writing Life Letter was sooo good, that she wanted to quote it and hang the quote in the room. Which she did. I was very excited. This is what she quoted from my letter: "Writing is anything... and everything. You can get your inspiration from a conversation. Or a fleeting thought that crosses your mind for just an instant. Or even something as simple as a rose petal floating on a pond, or a browned leaf falling to the frosty ground... Writing is magical to me, and there's barely anything I like to do more than just pick up a pencil and put my imagination on the paper. And just… write."

So. I think Brandon is ignoring me. He's trying not to show it, but I know I really broke his heart when I broke up with him. But I mean, I kind of had to, or else I was going to be miserable and lie to him by saying that I still loved him. *sigh* But really, I realize now that he's not the greatest person. He was teasing a frightened 6th grader today, and being really immature. I was like to Cassie, "Remind me again why I ever liked him?" and she was like, "Can't help you there."
Today, in Social Studies, me and Ricky were all tired cause of gym, so we sit down, look at eachother, groan at the same time, and then start taking out our homework. About five minutes into the period Mike says, "Aren't we supposed to have a Shelter Drill today?" and then literally, TWO SECOND LATER, an announcement comes over the P.A. telling the teachers to do a Shelter Drill. We were like YESSS! And then, ten minutes later once it's over, Ricky goes, "I thought we were gonna have an evaculation drill, though, not a shelter drill." And then a few minutes later they announce to start the Evacuation Drill. It was crazy ironic. So we missed all of SS doing emergency drills. On our way to Math, Ricky and Jarod and I were wishing it had been during Math or E.S. instead of SS. Because Social Studies is actually fun. Well, the history is sort of boring, cause we're just learning about Immigration and boring stuff like that, but Ricky, Jarod, Hayley and I just can't stop laughing because we're so random. The other day, when we were supposed to be thinking of jobs that unskilled immigrant workers could do, Ricky blurted out, "Puppeteer!" and we all were cracking up. Then Ricky couldn't stop laughing so I had to hit him over the head with my water bottle like I do nearly every day.
Omg. Omg omg omg. Omg.
. . .
I dunno. xD
Um...
Don't you love this smiley?! It's so freakin awesome, isn't it?!
ISN'T IT?!
I thought so.
xD
I've got Goodbye stuck in my head and it's getting annoying.
Take this final peice of advice and get yourself together, cause either way baby I'm gone....... na na na na, na na na na, hey hey hey, gooodbyeeee.
Umm yeah I don't know most of the words, but I have that much stuck in my head. xD
Well. I think I've bored you all to death enough for the night.
Byee!
xoxx,
Dream
_____________________________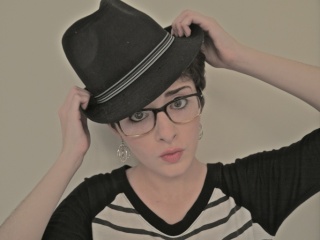 Yep, that's me! More of my photography:
http://flickr.com/nadinesantorophotography
My blog:
http://fromthemindofadreamer.tumblr.com
Admin





Posts

: 7663


Points

: 39638


Reputation

: 20


Join date

: 2009-09-17


Age

: 21


Location

: Stalker, much?




Similar topics
Wow love the blog it must have took a long time to write!XD.
Nah, like ten minutes, maybe less? I'm a super fast typist.

---
Permissions in this forum:
You
cannot
reply to topics in this forum