Fantasy: No,
Maturity: murders and death

Note: It is without dialogue.

Within the boundaries of the Anson Bay pine woods on the island of Norfolk lay the corpse of a man, which had remained unnoticed until the obtrusive stench emanating strongly off his decaying body drifted unto the fresh settlement of colonists who had emigrated from neighboring Pitcairn Island.
Several reluctant yet prideful youth eventually clambered into the harrowing woods, and quickly returned to their families in order to reveal the deceased as the keeper of the forest, that is to say, a hermit who had dwelt amongst the trees solitarily and whose name inspired the bay's own: Charles Anson.
At first, it was presumed that his death was the consequence of isolating oneself from society, and eventually, his being surrounded by botany caused him to devolve into a vegetable, and his swift death was caused by lacking roots and photosynthetic tendencies; despite, it seems that he was not completely without being classified as a plant, for it was proclaimed that he was without sentience as he did not immerse himself with those who were.
Yet the subsequent three months incepted a mysterious set of inexplicable slayings, all with the bodies discovered deep in the copse. The amount of victims totaled to seventeen, and three of whom were children. The indignation of the colonists could not surmount their cowardice, however, and soon they sailed away, although the murderer may have wandered away with them, for they were a naïve race and taken to stereotypes: that perpetrators of felonious acts are not only insane, but will display openly their incapacity, e.g., inflicting self-harm, or hysteria, thus unveiling themselves to the public so that they might be immunized per se by plucking the fiend from the lot and confining it to the asylum.
At last they broke port at Auckland, New Zealand, most all parting ways and migrating elsewhere; seeing as the youngest had been slain at Norfolk, the remaining youth, fourteen being the youngest, sought to find work, some toiling in the bosoms of ships, others farming, apprenticing or mining, of course all strenuous jobs with frugal pay and stingy lodgings. Two boys, Oliver Perkins, aged seventeen, and Wallace Brailey, who was two years his senior, refused to take part in what they considered "an ominous beginning," for they were, as is typical with youth, ambitious and complacent – such plebian avocations as hauling coal and garbing oneself with an inexplicable stench were inferior to their chivalrous standards – and perpetually immoral, alas, poor Oliver was inflicted with syphilis during a sojourn in New York, and Wallace contracted consumption; slowly he wasted away, and at his death bed he confessed to the Norfolk Island murders, and also he claimed to have killed another thirteen incidentally by giving one of them water that had not been boiled, this person who received the water then let each of his friends take a sip, and they all died from cholera.
However, a statement from Oliver when he was at his deathbed is entirely contradictory towards Wallace's. He confessed to not only the Norfolk Island murders but also to the tragedy of the R.M.S. Titanic. No one believed him however, because he was unstable and prone to hallucinations, which is the wont of the layman. . . .

Apprentice 1





Posts

: 330


Points

: 29662


Reputation

: 1


Join date

: 2010-06-15


Age

: 21


Location

: A Deflating Country



Wow. That could be an excellent start of a novel. Somewhat creepy, yet also intriguing.
_____________________________
The Fray
Rising Star 2





Posts

: 6116


Points

: 38450


Reputation

: 18


Join date

: 2009-09-19


Age

: 21


Location

: On a midnight train going anywhere...



Very interesting. I agree with Lauren on that it would seem to be the beginning of something, rather than stand alone. I have a tip for you, though: although it was coherent, things often flow more smoothly when more common words are used along with higher-level vocabulary words. It's understandable unless your vocabulary is poor, but it does become a bit tedious on the brain because they aren't words one would find in typical everyday language.
_____________________________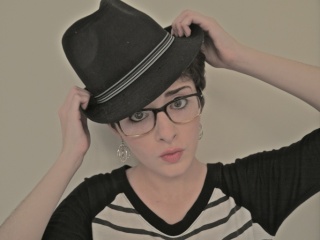 Yep, that's me! More of my photography:
http://flickr.com/nadinesantorophotography
My blog:
http://fromthemindofadreamer.tumblr.com
Admin





Posts

: 7663


Points

: 40248


Reputation

: 20


Join date

: 2009-09-17


Age

: 21


Location

: Stalker, much?



I suppose I am influenced too much by H.P. Lovecraft! It is tedious to write as well as read. My style is archaic which I doubt will change but I should become more aware of my stilted vocabulary! No story should have one constantly peeking in the dictionary! Only H.P. Lovecraft is allowed to do that. I thank you both! : )
Apprentice 1





Posts

: 330


Points

: 29662


Reputation

: 1


Join date

: 2010-06-15


Age

: 21


Location

: A Deflating Country




---
Permissions in this forum:
You
cannot
reply to topics in this forum