I got impatient and I wanted to make my blog now rather than later, when something interesting actually happens xD
September 19th
Today's my aunt's birthday, so we're going over to my Grandma's house to celebrate. Like at 7 tonight, or something. I dunno. Anyway, my cousins are gonna be there, so I get to hang out with Kimby

Funneesss. If we end up playing Swiffer-and-soccer-ball Quidditch again, I'll let you know. xD
So I was thinking last night. And I sort of came to a conclusion, maybe, but I'm not sure. It's kind of... well, I dunno... but really... no.... oh, what the heck. I think I might possibly have a teeny tiny crush on Ricky a little bit maybe.
MAYBE.
MAYBE.
Did I mention maybe? xD
Um, well yeah, it's kind of weird thinking of Ricky like that, so really I don't think so, but maybe possibly a tiny little bit maybe. Or maybe Gabe a little bit.. but really, Gabe and Daisy would make such a cute couple, they should really get back together.
So really, I dunno.

Uhm...
We now have 6 members! Woot!
I'm workin on the whole Mod program.. it's coming along well, although I don't think I'm gonna allow any more Mods for now.
I'm still trying to figure out how to change the forum font and get the avatars and usernames and such when you post back on the left, so it's normalish. Ya know? So, yeah.
Er, what else?
Oh! Have any of you read the series: The Missing by Margret Peterson Haddix? Book 1 is Found and Book 2 is Sent. Scott read them. They look interesting. I might read them if I feel like it.
Well, I have nothing else to report.
I might edit in some more stuff later, if something exciting happens.
Ciao!
xoxx,
Dream
EDIT: (11:37 AM) - HELP! My mom is dragging me off to the mall and I don't feel like shopping.

EDIT: (3:50 PM) - I'm back. So it turns out we weren't even shopping for me. We were shopping for my 10-year-old cousin Heather and Scott. Lameness. My mom didn't even let me go in Pac Sun or Aero or anywhere.

It was tragical.
EDIT: (3:53 PM) - Hey! Guess what? There's a really fat groundhog in my yard, right outside the picture window right next to where I am sitting with the laptop. It's sniffing the ground. It's really fat. xD
Last edited by Dreamer on Sat 19 Sep 2009, 3:54 pm; edited 4 times in total
_____________________________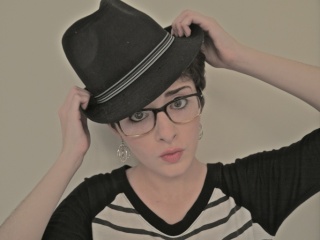 Yep, that's me! More of my photography:
http://flickr.com/nadinesantorophotography
My blog:
http://fromthemindofadreamer.tumblr.com
Admin





Posts

: 7663


Points

: 39928


Reputation

: 20


Join date

: 2009-09-17


Age

: 21


Location

: Stalker, much?



xD I do enjoy shopping. I just wasn't in the mood. xD And plus, it turns out we weren't even shopping for me. We were shopping for my 10-year-old cousin Heather and my brother. xP

---
Permissions in this forum:
You
cannot
reply to topics in this forum